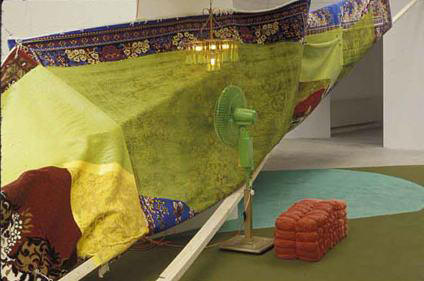 ---
House Beautiful, 1994
Collection Le Consortium, Dijon, France
---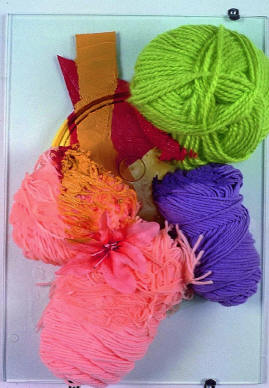 ---
1994
Oil and acrylic paint, glass, plastic lid, yarn, silicone caulking
18 x 12 x 4 in
45.7 x 30.5 x 10.2 cm
Collection John Robertshaw, New York
---
Transformation of Ordinary Objects
Ordinary objects commonly associated with domestic environments are removed from their setting and intended functions in Stockholder's works. In House Beautiful, household items include a fan, balls of yard, a chandelier, and seven rugs. But these are no ordinary objects; the fan is painted green, the carpets float from cables, and the chandelier nearly collides with one of the rugs.

Dissociated from their function, the objects must then be redefined. The fan, for example, no longer a distributor of air, instead moves color. At the same time it becomes an abstract, vertical shape pointing towards—and ineffectively attempting to contain—the massive triangle of the rugs as they groan against their sturdy cables.

This transformation of objects into characters which do something makes the objects part of a dynamic system as opposed to a still life or static arrangement. The meaning of each individual component changes, but the parts still retain their associations as objects.

In addition, Stockholder uses materials that can be found in domestic settings, such as yarn, which evokes associations with "women's work," which she alludes to in the title of the piece. However, the rough construction process she uses implies a masculine presence in the environment. No matter how viewers interpret Stockholder's domestic sphere, her work unquestionably brings intimate, private interiors of the home into the public realm of the gallery and museum.

Interestingly, Stockholder's objects appear pristine and new, putting them in the category of art materials as opposed to found objects that maintain individual histories. For instance, yarn is bunched together in active clumps that function similarly to colored lines and shapes in a wild gesture drawing. Stockholder brings sophisticated visual techniques to ordinary and mundane materials.