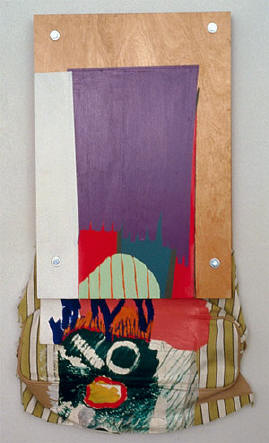 ---
1991
Paint, plywood, cloth, paper, litho print on paper, hardware
32 x 17 in
81.3x43.2cm
---
Schedule of Events
Jessica Stockholder, Kissing the Wall: Works, 1988-2003
Blaffer Gallery
September 18 - November 21, 2004
Opening Reception
Friday, September 17, 7-9 PM
Artist Talk at 7:30 PM
Related Programming
Wednesday, September 29, Noon
Brown Bag Lunch Tour with Terrie Sultan, Director, Blaffer Gallery
Sunday, October 24, 1-4 PM
Studio Sunday
Sculpture Wars: Assembly Required
(Gallery tours and sculpture competition for all ages. Prizes will be awarded.)
Thursday, November 4, 7 PM
Dynamic Forms, Poised for Action, Contemporary Salon with guests Christopher French, Artist; Mary Leclère, Assistant Director, CORE Residency Program, The Glassell School of Art, The Museum of Fine Arts, Houston; and Tommy Fitzpatrick, Artist.
Also on view a new installation by Stockholder:
Rice University Art Gallery
September 16 - October 31, 2004
Sam Ran Over Sand or Sand Ran Over Sam
Related Programming
Thursday, September 16, 5:30 – 7:30 PM
Opening Reception
Artist's talk at 6:00 PM
Friday, September 17, noon
Artist Talk
Wednesday, October 6, 6-8 PM
Plot Turns and Cliffhangers
Learn more about the artist's optimistic, energetic and exuberant work during a special evening of gallery talks by Kimberly Davenport, Director, Rice University Art Gallery and Terrie Sultan, Director, Blaffer Gallery. The cost, $20, for Rice Gallery and Blaffer Gallery members, $25 for non-members, includes transportation between the two museums, parking at Rice, wine and hors d'oeuvres. RSVP necessary.
Additional Upcoming Events:
Weatherspoon Art Museum
February 13 - May 8, 2005