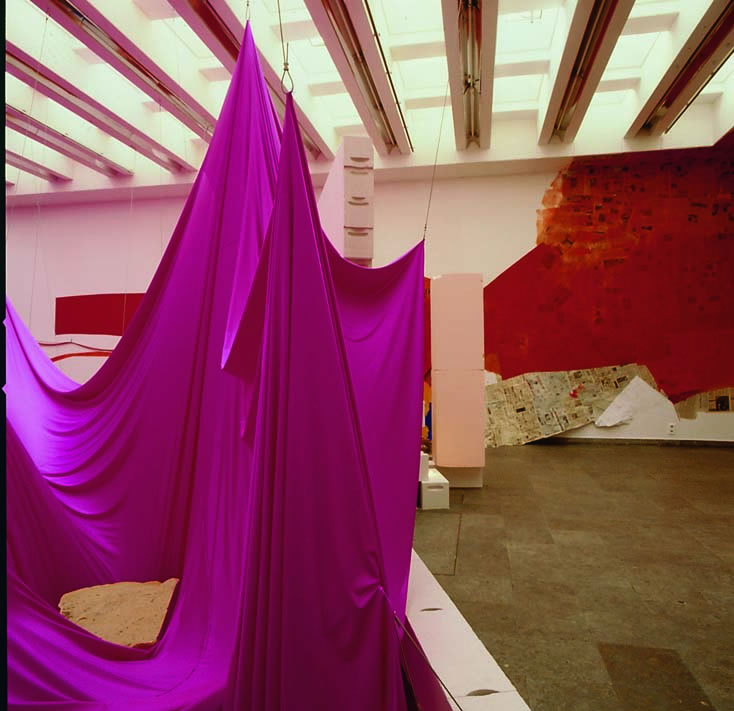 ---
Growing Rock Candy Mountain Grasses in Canned Sand, 1992
Installation, Westfalischer Kunstverein, Münster, Germany
---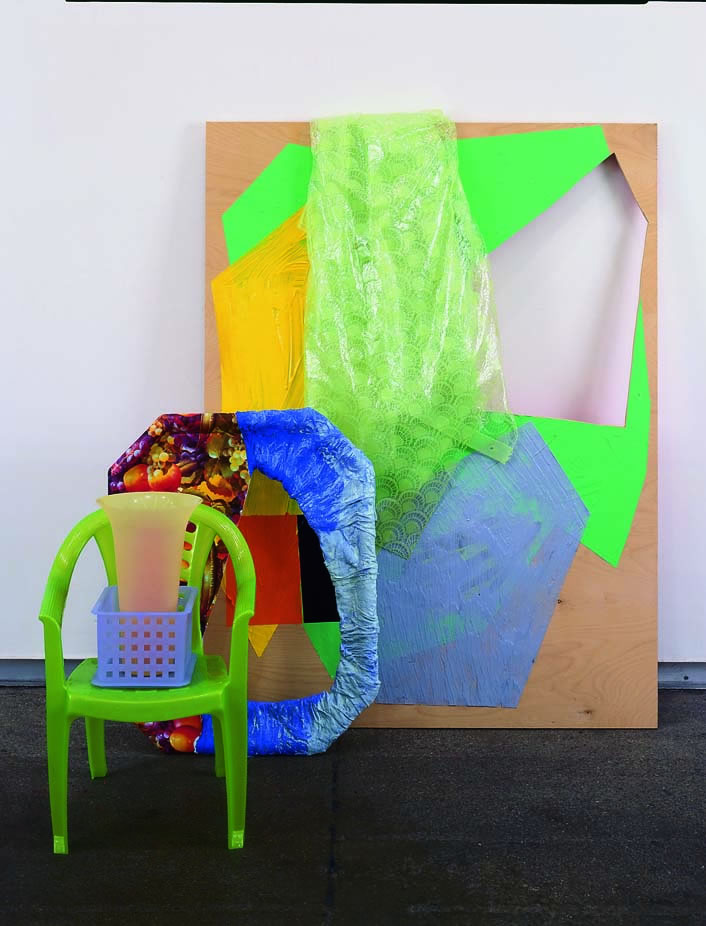 ---
2003
Plywood, shower curtain, plastic tray, paper mâché,
plastic, plastic child's chair, three plastic containers
15 x 50 x 32 in
38.1 x 127 x 81.3 cm
---
Discussion Points for Teachers
Some pieces are attached to the wall, others are free-standing, while others inhabit an entire gallery or become part of an exterior space. How do Stockholder's pieces relate to space? Examine the relationships of her work as she moves outwards from small to big.

Which elements in Stockholder's works are architectural? Sculptural? Painterly? How do these elements fit together? How do her works blur the boundaries between different media?

How does Stockholder use ordinary objects in her work? How do they function in her artwork, as opposed to in real life? What are the sources of her artwork and what type of objects does she incorporate in it?

How does she use other elements, such as line, texture, scale, variety of size and shape, to create her compositions? How does she connect objects in the composition?

Many of Stockholder's works seem animated, or poised for action. Which verbs would you use to characterize these actions? In addition, many of the works contain evidence of the artist's working process. How would you describe how an individual sculpture was made?

How do titles change the viewer's understanding of Stockholder's works? Why do you think so many works left untitled?

What is the relationship of Stockholder's large-scale works and installations, such as Rice University Art Gallery's Sam Ran Over Sand or Sand Ran Over Sam to her smaller, studio work (drawings, collages, photomontages)? How are they similar and how are they different?

How are some of her installations similar to stage sets? (Hints: lighting conditions, scale).

Why are her installations compared to maps? (Hints: Uses familiar objects as landmarks, invite exploration). How do they portray surfaces and space? How does the viewer travel through her works?