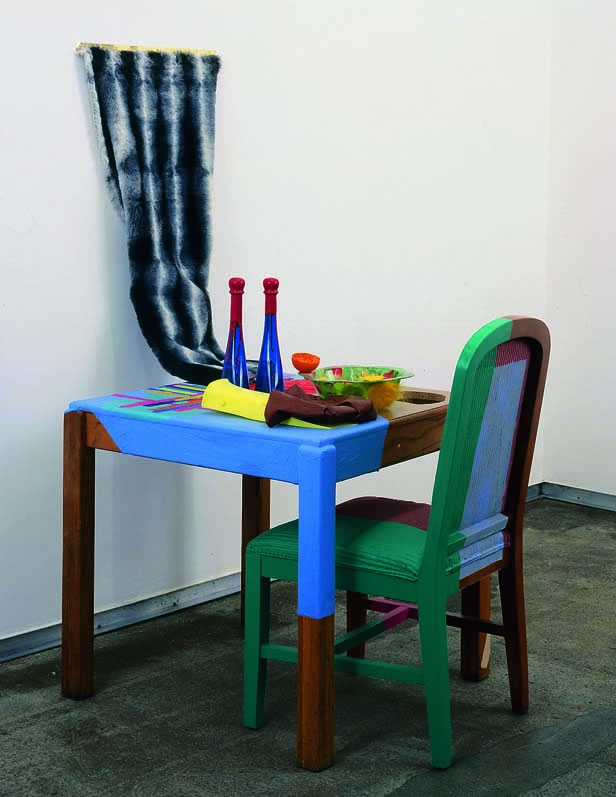 ---
2003
wooden table, two blue glass bottles, flipper, painted shower curtain, acrylic paint, pink upholstered chair, fur on hinge, plastic bowl, plastic orange
58.5 x 53 x 30 in
148.6 x 134.6 x 76.2 cm
---
About the Site

jessica stockholder kissing the wall works: 1988-2003

This website was developed in collaboration with the University of Houston's Blaffer Gallery and the College of Education's Instructional Technology Program. Students in the Educational Project-Based Web Design and Development Course gain hands-on experience in developing educational resources for the web while creating meaningful site content for the University Museum. This technology and art partnership enables students to experience working with real-world clients, while museum educators reach a broader viewing audience for art education and exhibition.

This site promotes the upcoming exhibition and publication that will survey the work of Jessica Stockholder; this site gives an overview of the art that will be on display at the exhibition and provides educational resources for a wider audience of teachers and individuals interested in learning more about the artist. The website will be expanded to include detailed descriptions in the making of Stockholder's art, defined terms, and an interactive analysis of her installations and studio works.