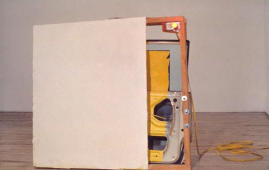 ---
1989
Car door, Sheetrock, cloth, oil, acrylic and latex paint, orange light, yellow electrical cord, wood, hardware
approx 51 in
---
About the Exhibition: Jessica Stockholder: Kissing the Wall

--Introduction by Terrie Sultan and Nancy Doll, This text is excerpted from Kissing the Wall: Works 1988-2003, Terrie Sultan and Nancy Doll.
Stepping into an exhibition of Jessica Stockholder's work prompts memories of shopping at K-Mart, greeting a child's room full of colorful toys and games, visiting a lighting store whose stock is in disarray, and walking down Broadway after the Macy's Thanksgiving Day Parade. Situated somewhere between home and Home Depot—with innumerable detours—Stockholder's art is optimistic, energetic, visually stimulating, and formally and intellectually rigorous.
Throughout her career, Stockholder has balanced production of the monumentally scaled, multidimensional, and highly theatrical site-specific installations for which she is largely known with self-contained assemblages and various two-dimensional works that reflect a more intimate, human scale. It is through these assemblages (formal "essays" in which the artist processes her ideas about materials and composition) and her collages and monotypes (intimate, autonomous "sketches" in which the artist explores the pictorial tradition of framed space) that we can gain further insight into Stockholder's creative process.
Verbs, particularly action verbs, seem to be the most apt part of speech to describe Stockholder's art, which has been said to overlap, turn, hover, bulge, and kick. Her art also misbehaves by defying any and all attempts at categorization or even description. Her work further suggests the function of language in the way that individual elements have meaning unto themselves but carry other associations based upon their context. Just as by talking we sometimes clarify what we think, Stockholder's work assumes form and meaning as it shifts from one thing to another, compelling us, as we view it, to make sense of the space we move in. Not only does her work connect the dots, it also links colors, forms, and spaces into relationships we could not have imagined.

In 1983, the year that Stockholder began graduate studies at Yale University, she created Installation in My Father's Backyard. This became a prototype for all of her subsequent explorations as she developed a vocabulary that fused two seemingly incompatible disciplines, painting and sculpture. In 1988, Kissing the Wall #2 [Plate 1], a projection screen wrapped with paint and incorporating a light that was pointed at the wall, she initiated the series of smaller assemblage objects that would become the cornerstone of her subsequent work.
Profusion, multiplicity, and contradiction characterize Stockholder's approach to art making. She structures fusions of found objects—commercially produced textiles, construction materials, household items, and bits of everyday stuff—as shapes and lines in space. The use of the commonplace is emblematic of Stockholder's creative process. Building upon the creative trajectory of Robert Rauschenberg, her compositions challenge cognitive and emotional distinctions by blurring categories such as object and environment, or decorative beauty and practical use. Trained as both a painter and a sculptor, she takes a surprising hybrid approach to art making that is grounded in sophisticated theoretical content, a spirit of adventure and exploration, and a sly sense of humor. Stockholder's work packs the color, shape, and surface of conventional painting into the space, volume, weight, and mass associated with sculpture. The found objects and raw materials she uses are commonplace, but she assembles them in such a way as to reintroduce magic and possibility into things we normally perceive as possessing little or no aesthetic value.
In 1965, Donald Judd wrote, "Half or more of the best new work has been neither painting nor sculpture." [i] Stockholder is quintessentially of this historical paradigm, and her innovative work has been influential for a younger generation of artists. Her sculptures and installations are fully informed by historical awareness, and her influences vary widely, from Henri Matisse, Paul Cézanne, and the Cubists to Clyfford Still, Frank Stella, New York School hard-edge painting, and Minimalism. Her bias toward physicality and a materialist's understanding of artistic modernity also finds its roots in Allan Kaprow's 1960s "Happenings" and the post-Minimalist "scatter" art of Robert Morris and Robert Smithson. Through her tutored conceptual lenses, Stockholder synthesizes these various influences to produce original, innovative, and intensely visual essays on the theme of forms in space.
The exhibition Jessica Stockholder, Kissing the Wall: Works, 1988–2003, takes its name from the seminal 1988 piece mentioned above. The period of the exhibition is framed, on the one hand, by this momentous development in her work, and on the other, by recent work that has moved away from the wall to stand freely in space, another important step in her artistic exploration. Seventy-four works have been selected for the catalogue to exemplify the diverse range of Stockholder's aesthetic and her cerebral synthesis of artistic and stylistic precedents that, combined with her own visual impulses, has resulted in a unique and highly important body of work.
____________________________
[1] Donald Judd, "Specific Objects," in Arts Yearbook VIII (New York) (1965), cited by Barry Schwabsky in Jessica Stockholder (London: Phaidon Press Ltd., 1995), p. 52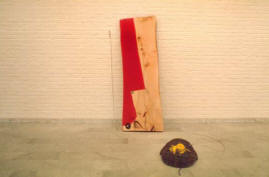 ---
Lack, 1992
Westphalian basket, linen yarn, acrylic paint, metal cable, section of tree
64 x 66 x 72 in
162.6 x 167.6 x 182.9 cm
Collection of the artist
---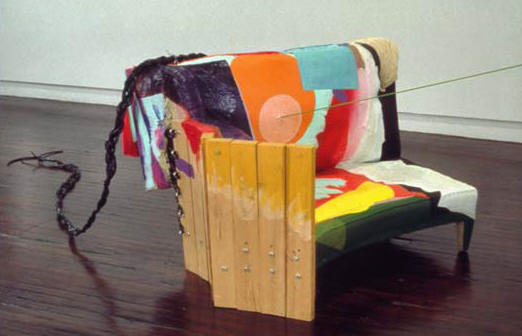 ---
1994
Pink couch, oil and acrylic paint, wood, hardware, electric wiring, newspaper mâché, plastic, twine, clothing, string, nail
180 x 61 x 47 in
457.2 x 154.9 x 119.4 cm
Collection Eileen and Michael Cohen, New York
---